FAIRPLAY
First known as Fair Play Diggings, the town that sprang up where gold rich Beaver Creek met equally rich Middle Fork of the South Platte River, became South Park City for a short time. Returned to the name of Fairplay late in 1874, the town remains the county seat and one of only two incorporated municipalities in Park County.

The town hosts the start and finish of the World Championship Burro Race, a race from 10,000 feet above sea level to the top of Mosquito Pass at 13,185 and return. Visitors can fish and pan for gold in the river, step back in time by strolling through the South Park City Museum, explore art galleries, stay in either historic or modern accommodations.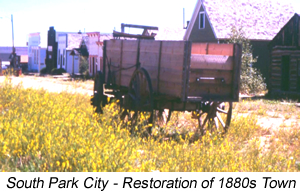 The discovery of gold in 1859 brought thousands of prospectors to South Park and the mining camp of Tarryall, nicknamed "Grab-all" by unwelcome latecomers who pushed south and established a new mining camp called "Fair Play." After several prosperous years, Fairplay became the county seat in 1867.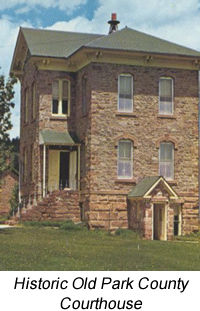 Six 19th Century buildings in Fairplay are now listed on the National Register of Historic Places. A Smart Phone Fairplay Historic Walking Tour is available on the town of Fairplay website, visitfairplay.net. One featured building, South Park Community Church, is a historic American gothic structure dedicated in 1874 by missionary Sheldon Jackson. Copies of the brochure are available at the Fairplay Visitor Center at 100 4th Street(719-836-2387). The visitor center is open daily between May 15 and October 15 and there is no admission fee.

The OLD Park County Courthouse was built of native sandstone in the Italianate style. Along with the adjacent stone jail, located at 418 Main Street.
Events in Fairplay
1/28/2017 – 2017 Boys & Girls Clubs of the High Rockies Annual Chili Cookoff. Call 719-836-9019 for more details.


4/16/2017 – Town of Fairplay Easter Egg Hunt at South Park City Museum in Fairplay at Noon. Also Sponsored by The American Legion. Call 719-836-2622 for more details.


6/8/2017 - 6/11/2017 – Contin-tail Fairplay Rock & Gem Show (tentative). Call 719-836-2622 for more information or visit the Town of Fairplay's website.


6/10/2017 - 6/11/2017 – South Park Trail Marathon & Half starting at South Park City in Fairplay. Portion of the proceeds to benefit the South Park Schools Foundation.


6/23/2017 – TGI Fairplay Friday Free Concert Series & Pig Roast at Fairplay Beach. Call 719-836-2622 for more info or visit www.visitfairplay.net


7/4/2017 – Fairplay's Independence Day Celebration. Parade, Strut Your Mutt, BBQ at The Beach, Free Concert at The Beach, Fireworks Display. Call 719-836-2622 for more info or visit www.visitfairplay.net.


7/8/2017 – Sheep Mountain 50 Mile Endurance Run


7/12/2017 - 7/16/2017 – Park County Fair & Rodeo in Fairplay. Visit www.parkcofair.com for schedule.


7/28/2017 – TGI Fairplay Friday Free Concert Series at Fairplay Beach. Call 719-836-2622 for more info or visit www.visitfairplay.net


7/29/2017 - 7/30/2017 – 69th Annual Burro Days with Burro, Llama, & Outhouse Races; Booths; Parade; Rides. Call 719-836-2622 for more info or visit www.visitfairplay.net.


8/5/2017 - 8/6/2017 – Silverheels 100 Mile Endurance Run


8/12/2017 - 8/13/2017 – Annual Living History Days at the South Park City Museum. Gunfighters, 40+ buildings of local mining town history, people dressed in period costume. Call 719-836-2387 or visit www.southparkcity.org for more details


8/12/2017 - 8/13/2017 – Fairplay Bead & Fiber Show


8/25/2017 – TGI Fairplay Friday Free Concert Series at Fairplay Beach. Call 719-836-2622 for more info or visit www.visitfairplay.net


9/5/2017 - 9/9/2017 – South Park Art Celebration – Plein Air Festival & Art Celebration


9/17/2017 – Mosquito Range Heritage Initiative Poker Ride. Mountain Bike Ride through the changing Aspens. Call 719-836-7203 for more info.


10/31/2017 – South Park City Museum Trick or Treat and Haunted House. Call 719-836-2387 for more details.


10/31/2017 – Halloween Boo Bash at the Fairplay Community Center. Halloween Games, Costume Competition with Prizes, Cake Walk, Face Painting, Food & Snacks. Teen Only Activities Upstairs. Music by DJ Kristoff.



12/9/2017 – 23rd Annual Victorian & Cowboy Ball