HARTSEL
First arriving in the South Park in 1860 in search of gold, Sam Hartsel soon discovered that feeding the miners was far more lucrative than digging for gold. He established a ranch in the open range in the heart of the South Park and gradually built it to one of the most successful cattle and sheep operations in the area and a thriving hotel near the ranch's hot springs.

In a large meadow east of Hartsel, the 1874 Buckley Ranch looks much like it did in the 1930s. This six-acre National Register District encompasses the former ranch headquarters and numerous other buildings. The Colorado Division of Wildlife has since purchased Buckley Ranch for public fishing, hunting and wildlife viewing.

Three miles north of Hartsel, the 1874 Santa Maria Ranch is listed on the National Register and is undergoing restoration of the many historic buildings and offers private fishing on the South Platte River running through it. The standard gauge railroad depot in Hartsel was one of the busiest of the line.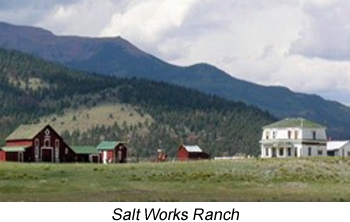 Salt Works Ranch includes the original 1862 homestead of Charles L. Hall. A number of log and wood frame buildings typical of the period remain on the site. Listed on the National Register of Historic Places, Salt Works is thought to be one of the oldest working ranches in Colorado operated by the same family. The Colorado Salt Works, located on the ranch, was the only salt production facility of its kind in Colorado and represents one of Colorado's earliest industrial enterprises.

Hartsel remains a ranching-focused town where along with the cattle, the buffalo has become a favorite range animal, co-existing with deer, elk and antelope on the open high plains.

Great TROUT Fishing with handicapped access area!
Events in Hartsel
2/18/2017 – Chaparral General Store's Tarryall Reservoir Ice Fishing Tournament with Cash Prize Awards. Call 719-836-0308 between 6:00am and 1:00pm for more details.


8/5/2017 - 8/6/2017 – Annual Hartsel Days Celebration. Parade, Food, Craft & Yard Sales. Call 719-836-3033 or E-Mail us for more info.