JEFFERSON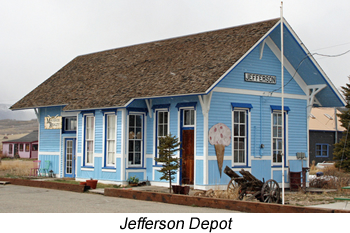 The ranching town of Jefferson was established when the DSP&P Railroad arrived in 1879. A railroad depot was built soon after and by 1881 the town had two butcher shops, a saloon, lumber mill, hotel, blacksmith, post office, express office and a population of 300. Listed on the National Register of Historic Places, the Jefferson Depot is a well-preserved, wood frame railroad depot on US Highway 285 in Jefferson, Colorado.

Jefferson is the northern most point on the Tarryall Valley Scenic & Historic Auto Tour that follows County Road 77 to Lake George. The Jefferson School has been a center of activity since its construction in 1901, and continues to serve as a community center and church on Main Street.

Following a rough wagon road west from Denver, the DSP&P Railroad arrived at Kenosha Pass Summit in 1879. Listed on the State Register of Historic Properties, this site is important for its association with the DSP&P Railroad's crossing of Kenosha Pass. Visit the roadside exhibit on the east side of the road or walk the restored rail bed at this interpretive site.
The historic Wahl Ranch unfolds as one descends into South Park over Kenosha Pass. This National Register District encompasses several remaining log and wood frame buildings dating from 1883 to 1948.

Jefferson Lake provides access for fishing and hiking. The State of Colorado stocks Jefferson Lake with rainbow trout. The lake is surrounded by scenic mountains. A stream and a small brook enter the lake on the far side. Jefferson Lake is a very popular area with picnic tables and restrooms.
Real Estate in Jefferson