LAKE GEORGE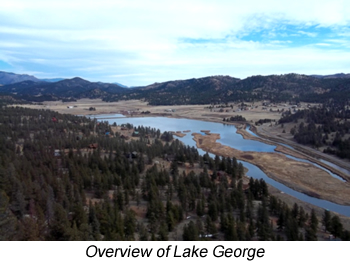 The Colorado Midland Railway first brought passengers through 11Mile Canyon on July 12, 1887. With the construction of the Midland also came many settlers and homesteaders. Among these was a man from New York named George Frost. Frost, an entrepreneur, knew that the railroad would need ice so in 1890 he started building the lake and ice house. Lake George has endured since then as a hotspot for camping, hiking, fishing and hunting. In 2009 Congress approved and President Obama signed a bill designating the South Park National Heritage Area - one of less than 50 such congressionally designated areas in the United States that represent the history of the country. With its natural beauty, mining history, railroad history and agricultural history, Lake George is proudly part of this Heritage Area.

The area offers Gold-medal fishing opportunities throughout the year for Brown, cutthroat, and rainbow trout, northern pike and Kokanee salmon. Great recreational opportunities at nearby 11 Mile and Spinney State Parks, Tarryall Reservoir and the incredible Tarryall Valley on County Road 77. Visitors to the Eleven-Mile Canyon Recreation Area will be treated to three railroad tunnels, tumbling streams, plentiful picnic areas and interesting rock formations. Trails and forest service roads lead into deep pine and aspen forests that glow golden in the fall.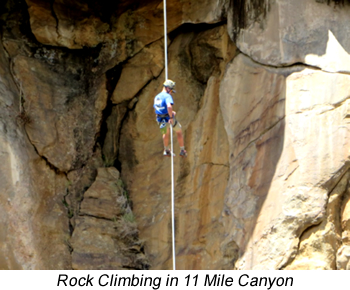 Lake George is also known worldwide for its amazonite, microcline, clear & smoky quartz crystals, green & purple fluorite and topaz. The Smithsonian Museum and other large national museums have Lake George specimens on display (please note that virtually all digging areas in and around Lake George are privately owned claims and it is illegal to dig at these sites). Lake George is host to the annual Gem and Mineral Show in August.

Lake George Community Park is the site of the Arkansas Valley Flywheelers annual Tractor Pull held the third weekend in August. The annual Lake George Extravaganza community yard sale is that weekend also. The park borders the Pike National Forest and has a wonderful interpretive hiking trail for all to enjoy. Be sure and visit the historic 1875 Snair Cabin at the park too.
Events in Lake George
Dining in Lake George
Shopping in Lake George